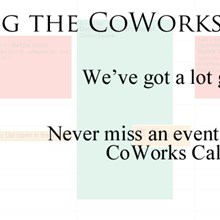 Keeping up with everything we've got going on can be it's own full time job (I would know)!
Make it easier on yourself by checking out our CoWorks Calendar, featuring all of the events posted on our Meeup.com group as well as other events hosted at the CoWorks and even local events that are relevant to or of interest to our members.
Want to add our calendar(s) to your calendar? Complete this form and we'll send you an invitation to add the calendar to your calendar! Just indicate which types of events you would like us to share with you and we'll send it your way!
Have an event you think our members need to know about? Use this form to send us the details!
Here's a list of events you can find on our calendar:
JUNE
Friday, June 2nd (First Friday) - Beer & Waffle Friday
Sunday, June 4th - The Market at the Yard 11am - 4pm
Monday, June 5th - Energy Up at 12:15pm
Wednesday, June 7th (First Wednesday) - Free CoWorking Wednesday from 9am - 5pm / One Million Cups at 9am / 3rd Floor Office Suite Tour at 5pm / Rooftop Yoga 5:30 - 6:30
Thursday, June 8th (Second Thursday) - Free MakerSpace Day from 2-8pm
Friday, June 9th - Rockin' the RedHouse Happy Hour hosted by Sterling Casualty starting at 5:30pm
Sunday, June 11th - The Market at the Yard 11am - 4pm
Monday, June 12th - Energy Up! at 12:15pm
Tuesday, June 13th (Second Tuesday) - OpenHack at 6pm
Wednesday, June 14th - Free CoWorking Wednesday from 9am to 5pm / Rooftop Yoga at 5:30pm
Sunday, June 18th - The Market at the Yard 11am - 4pm
Monday, June 19th - Energy Up! at 12:15
Tuesday, June 20th - Downtown Farmer's Market
Wednesday, June 21st - Free CoWorking Wednesday from 9am to 5pm / SBDC Lunch & Learn at 12pm / Yoga Field Trip at 5:30
Thursday, June 22nd - Downtown Committee Anual Meeting
Saturday, June 24tth - CNY Drone Club
Sunday, June 25th - The Market at the Yard 11am - 4pm
Monday, June 26th - Energy Up! at 12:15
Tuesday, June 27th - Farmer's Market / AIA Lunch & Learn at 12pm
Wednesday, June 28th - Free CoWorking Wednesday from 9am to 5pm / Rooftop Yoga at 5:30pm / Whisky (& Philosophy) Roundtable at 6:30
Thursday, June 29th - Social Media 101 Workshop at 12pm / Say Cheese from 10am to 2pm
Friday, June 30th (Last Friday) - Spanish Language Luncheon
July
Sunday, July 2nd - The Market at the Yard 11am - 4pm
Monday, July 3 - Energy Up! at 12:15
Tuesday, July 4th - Independence Day
Wednesday, July 5th (first Wednesday) - Free CoWorking Wednesday from 9am to 5pm / One Million Cups at 9am / Rooftop Yoga at 5:30
Friday, July 7th (first Friday) - Beer & Waffle Friday
Sunday, July 9th - The Market at the Yard 11am - 4pm
Monday, July 10th - Energy up! at 12:15
Tuesday, July 11th (second Tuesday) - Farmer's Market / OpenHack at 5:30
Wednesday, July 12th - Free CoWorking Wednesday / Rooftop Yoga at 5:30 / Whisky (& Philosophy) Roundtable at 6:30
Thursday, July 13th (2nd Thursday) - Free Makerspace 2 - 5pm
Sunday, July 16th - The Market at the Yard 11am - 4pm
Monday, July 17th - Energy Up! at 12:15pm
Tuesday, July 18th - Farmers Market
Wednesday, July 19th (third Wednesday) - Free CoWorking Wednesday from 9am to 5pm / Free Money Smart for Small Business Lunch & Learn by SBDC at 12pm / Rooftop Yoga at 5:30pm
Sunday, July 23rd - The Market at the Yard 11am - 4pm
Monday, July 24th - Energy Up! at 12:15
Tuesday, July 25th - Farmers Market
Wednesday, July 26th - Free CoWorking Wednesday from 9am to 5pm / Rooftop Yoga at 5:30
Friday, July 28th (last Friday) - Americu Syracuse Arts & Crafts Festival / Free Spanish Language Luncheon
Saturday, July 29th - Americu Syracuse Arts & Crafts Festival
Sunday, July 30th - Americu Syracuse Arts & Crafts Festival / The Market at the Yard 11am - 4pm
Monday, July 31st - Energy Up! at 12:15pm