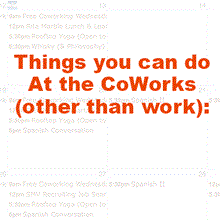 Are you familiar with everything that's going on at the Syracuse CoWorks? From Yoga to Language Classes to Workshops we have a lot to offer, even to non-members.
Of course membership gets you into some pretty sweet events too, like Beer & Waffle Friday and Whiskey & Philosophy Round Table!
Check out what we've got coming up and if you haven't joined us for anything before, think about finally making the leap!
I could write on and on about how much fun we have working from here but this slideshow might be more convincing, so enjoy!